Frequently bought together:
Description
TLC Deluxe Massage Bars - Polished

The Chosen Tool of Massage Therapist and Health Professionals
This Tachyonized energy healing product is the most powerful crystal on earth. The answer to miraculous self-healing.
Ideal for energy medicine practitioners, deep tissue massage work, pain relief, injuries, and body imbalances.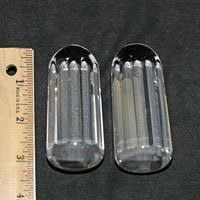 This Tachyon product has been a standard for 20+ years. In the hands of a knowing therapist, these high polished Tachyonized TLC Bars are an effective and a favorite tool. Through specific application of TLC Bars, you can transform deficient areas of the body into a vibrant and connected energy system. When you clear and reconnect the entire being to the Energetic Continuum, the outcome is predictable. You will discover that Tachyon is the missing link to miraculous self-healing.

Since 1990 the Tachyon Holistic Wellness course has been taught in 14 languages around the globe. The outcome is thousands of health care professionals treating clients with Tachyonized tools. For graduates of the Wholistic Wellness courses, the facts are clear:

Tachyon works! Tachyon changes lives!
Tachyon is the source of all frequencies and provides the greatest possible healing with no chance of over or under using the tools created to direct its force.

"The TLC Bar is an incredible Tachyonized product, and the best tool I have ever used for the removal of pain by non-medically trained people."
Gabriel Cousens, Esteemed Naturopath & M.D.
Now you, too, can use this incredible tool!

Up until now, the TLC Treatment bars have only been available to high-level energy healers and practitioners. Now you can experience their miraculous power.
Like the Vogel Wand, the Tachyonized TLC Bar is the most powerful crystal on the planet. And one of the most beautiful.
You will quickly discover that the Tachyonized TLC Bar is THE answer to miraculous self-healing.
Approximate size:
7.5cm (2.95") long X 3.5cm (1.38") wide X 3.5cm (1.38") thick.
Each pair is handmade, so dimensions can vary slightly.
Made from laboratory grown quartz crystals and hand polished on state of the art lapidary equipment.
TLC Bars Video

The Power of TLC Bars
Pre Tachyon TLC Bar Treatment.
Panther Juice applied.


Self Treatment with the Deluxe TLC Bars.
He wanted to do it himself.

After 45 Minutes


Next Morning

Our Tachyon Encyclopedia includes many TLC Bar treatment videos for specific health challenges.
A Note from David Wagner
I share this in all workshops, face to face. But today I am sharing the insight here, with you. All of these professional Crystal tools are hand polished on state of the art lapidary equipment. We do not use any faceting machines as our master cutters would lose connection with the piece they are creating, so it is standard to see minor cosmetic "freckles." Every single piece is unique - like you and me. I believe the freckles give the piece personality and character. Freckles never change the Tachyonization™ power or potential of this professional tool.
Enjoy them as the gift they were created to be, transformational tools.

View All
Close