Frequently bought together:
Description
Tachyonized Anti-Trauma Remedy
ACTIONS:
The herbs in this compound help to restore balance to the physical system after accidents, such as falls, hard blows, strains or sprains. Definitely indicated before and after surgery. Supports healthy vascular and musculature systems as well as promoting healthy nerve and spinal function. Helps maintain balanced emotional health.
SIZE:
OS-2 comes in 1 oz. (30ml). Using 30 drops per day this bottle will last about 1 month.
DOSAGE:
Acute: Mix 7 to 15 drops in water and take at once. Then take 3 to 5 drops every one to two hours as needed. Do not exceed 75 drops per day.
Tonic: 5 to 10 drops in water, one to three times per day.
Topical application: Apply undiluted to burns or any traumatized area where the skin is not broken.
CONTRAINDICATIONS AND CAUTIONS:
Do not give liquids to anyone who is not fully conscious. This compound does not replace emergency medical care. Traumatic injuries should be cared for by qualified healthcare practitioner.
Tachyonized Anti-Trauma Remedy is a Tachyonized™ blend of liquid extracts:
40% - Calendula flower (Calendula officinalis)
35% + St. John's Wort flower and bud (Hypericum perforatum)
25% - Arnica flower (Arnica spp.)

+ Fresh - Dried
(Contains grain alcohol (62-68%) and distilled water)
PLEASE NOTE: We use only Certified Organic and Wildcrafted herbs!
LEVEL II - CELL POINTS
By incorporating Ultra-Disks into any treatment we quickly balance the natural meridian flow thereby enhancing the entire treatment. Generally, you can use the 15mm Micro or Ultra-Disk for all applications. Locate the Cell Points as described below. Determine which Cell Points are the tenderest. Liberally apply Panther Juice to these points and allow to dry thoroughly. Using Cell-Dotts or surgical tape, adhere the Micro-Disks to the desired point. It is very important to cover the entire spot.
CELL POINTS TO RESTORE BALANCE TO THE PHYSICAL SYSTEM AFTER EXPERIENCING TRAUMA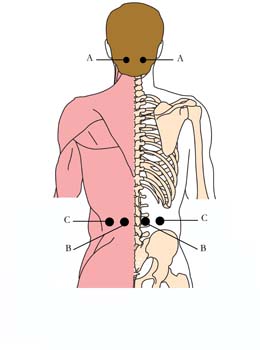 Location: Cell Point A is located below the base of the skull, in the hollows on either side of the spine.
Benefits: Relieves arthritis, headaches, stiff neck, neck pain and trauma.
Location: Cell Points B & C are located on the lower back, two and four finger widths from the spine, at waist level.
Benefits: Relieves depression, fatigue, exhaustion, trauma, and fear.
Caution: Do not press on disintegrating discs or fractured or broken bones. See your doctor first if you have any questions or need medical advice.
Application: Liberally apply Panther Juice to the areas and allow to dry completely. Adhere Micro- Disks with Cell-Dotts™.
Duration: Start Cell Point application when you begin using OS-2. Continue wearing the Micro-Disks for two to three days after symptoms have cleared. Reapply at the first sign of imbalance.
View All
Close