Frequently bought together:
Description
Tachyonized Antispasmodic Tincture
ACTIONS:
This herbal tincture is an anti-spasmodic and diffusive stimulate. Relieves muscular and visceral tensions in the body while vitalizing and equalizing the neurological force and the circulation of the blood and body fluids.
POTENTIAL USES:
Suggested in the treatment of any spasm including asthma, spasmodic croup, whooping cough, cramping, childbirth, convulsions, and epilepsy. Also indicated for lockjaw and hysteria. May also be applied externally to any type of swelling. Also beneficial for rheumatism, charley horses, etc.
SIZE:
OS-3 comes in 1 oz. (30ml). Using 30 drops per day this bottle will last about 1 month.
DOSAGE:
Preventive or Restorative: 7 to 15 drops in water, two to three times per day.
Acute: 10 to 20 drops in water, three to five times per day.
Topical application: Apply undiluted to unbroken skin.
CONTRAINDICATIONS AND CAUTIONS:
Large doses of Lobelia may cause nausea or vomiting. If you experience symptoms, discontinue use for a few days and then resume with a lower dosage. Not recommended for individuals with low blood-pressure, low vitality or a weak constitution. Many of the conditions listed above can be serious or even life-threatening. Seek the advice of a qualified healthcare practitioner.
Tachyonized Antispasmodic Tincture is a Tachyonized™ blend of liquid extracts:
18% - Lobelia herb and seed (Lobelia inflata)
18% - Skunk Cabbage rhizome and rootlets (Symplocarpus foetidus)
18% + Skullcap flowering herb (Scutellaria lateriflora)
18% - Black Cohosh rhizome and rootlets (Cimicifuga racemosa)
18% - Myrrh tears (Commiphora habesinnica)
10% - Cayenne pepper (Capsicum annuum)

+ Fresh - Dried
(Contains grain alcohol (62-68%) and distilled water)

PLEASE NOTE: We use only Certified Organic and Wild-crafted herbs!
LEVEL II - CELL POINTS
By incorporating Ultra-Disks into any treatment we quickly balance the natural meridian flow thereby enhancing the entire treatment. Generally, you can use the 15mm Micro or Ultra-Disk for all applications. Locate the Cell Points as described below. Determine which Cell Points are the tenderest. Liberally apply Panther Juice to these points and allow to dry thoroughly. Using Cell-Dotts or surgical tape, adhere the Micro-Disks to the desired point. It is very important to cover the entire spot.
CELL POINTS FOR ANTISPASMODIC TRIGGER POINTS
Location: Cell Point A is located between the nose and the upper lip.
Benefits: This is an anti-spasmodic trigger point that releases cramps and spasms.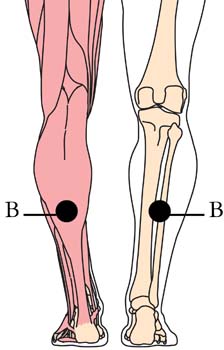 Location: Cell Point B is located in the center of the calf at the bottom of the muscle bulge.
Benefits: This is an anti-spasmodic trigger point that releases cramps and spasms.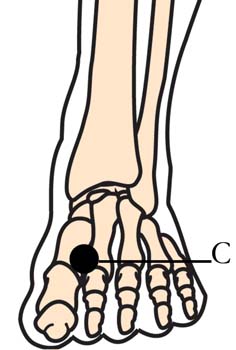 Location: Cell Point C is located on top of the foot in the valley between the big toe and the second toe.
Benefits: Relieves foot cramps.
Application: Liberally apply Panther Juice to the areas and allow them to dry completely. Adhere Micro-Disks with Cell-Dotts™.
Duration: Start Cell Point application when you begin using OS-3. Continue wearing the Micro-Disks for two to three days after symptoms have cleared. Reapply at the first sign of imbalance.
LEVEL III - TLC POINTS
For Tachyon trained individuals, incorporating TLC Bars on the TLC balancing points below provides the ultimate treatment combination. TLC bars are reserved for Students of Tachyon Holistic Wellness courses or LWL courses.
TLC BALANCING POINTS FOR RELIEF FROM SPASMS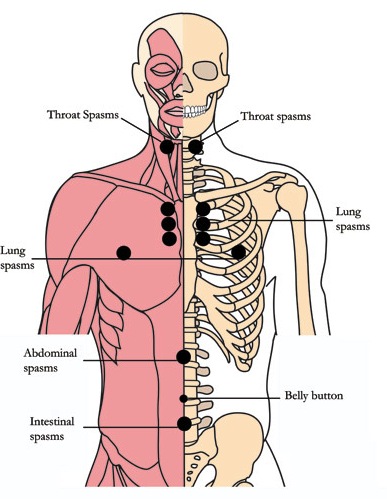 Typical Balance Session: Using your TLC Bars, charge each point for 30 seconds energy in. Reverse the flow for 30 seconds energy out. Finish with 30 seconds energy in.
View All
Close