Frequently bought together:
Description
Tachyonized Herbal Tonic for Athletes
ACTIONS:
There are no health-threatening side effects to this compound that contains natural phytosterols (plant steroids). While the metabolic effects may not be as dynamic or fast acting as synthetic steroids these herbs are safe to use, unlike synthetic steroids.
POTENTIAL USES:
Suggested in the use of men's and women's athletic training and competition, or in any situation where the body is being trained to perform optimally, or is being pushed beyond its limits. This compound is a safe alternative to synthetic anabolic steroids.
SIZE:
OS-18 comes in 1 oz. (30ml). Using 30 drops per day this bottle will last about 1 month.
DOSAGE:
15 to 25 drops in water, three or four times per day. Take between meals and a few minutes before physical workout.
CONTRAINDICATIONS AND CAUTIONS:
Use is contraindicated in hyperadrenal conditions such as Conn's syndrome or Cushing''s syndrome. Compound may cause sleeplessness. Decrease dosage or do not take drops in the evening.
Tachyonized Herbal Tonic for Athletes is a Tachyonized™ blend of liquid extracts:
30% - Sarsaparilla root (Smilax ornata)
30% - Saw Palmetto berry (Serenoa repens)
30% - Siberian Ginseng root (Eleutherococcus senticosus)
10% - Gotu Kola herb (Centella asiatica)
- Dried
(Contains grain alcohol (48-53%) and distilled water)
PLEASE NOTE: We use only Certified Organic and Wildcrafted herbs!
LEVEL II - CELL POINTS
By incorporating Ultra-Disks into any treatment we quickly balance the natural meridian flow thereby enhancing the entire treatment. Generally, you can use the 15mm Micro or Ultra-Disk for all applications. Locate the Cell Points as described below. Determine which Cell Points are the tenderest. Liberally apply Panther Juice to these points and allow to dry thoroughly. Using Cell-Dotts or surgical tape, adhere the Micro-Disks to the desired point. It is very important to cover the entire spot.
CELL POINTS - EXAMPLE APPLICATION FOR RUNNERS
Benefits: All of these points relieve knee pain. They are also points for prevention of stresses and strains from running and other extremities. They do not all have to be used at once.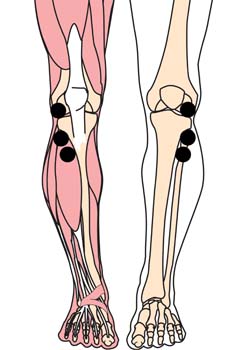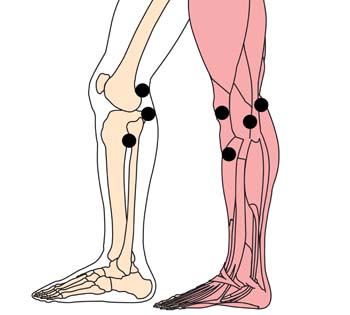 Application: Liberally apply Panther Juice to the areas and allow to dry completely. Adhere Micro-Disks to the points. When participating in athletic events causing sweat make sure to tape the Micro-Disks™ securely. When wearing the Micro-Disks under normal conditions adhere with Cell-Dotts™.
Duration: Place the Micro-Disks on the body before the event. Reapply afterwards if symptoms develop, and continue wearing the Micro-Disks for two or three days after the symptoms have cleared.
View All
Close