Description
Tachyonized Anti-Inflammatory Remedy
ACTIONS:
The herbs in this compound help to relieve the intensity and duration of inflammation process which then minimizes tissue damage and speeds up the healing process. The herbs in this compound are natural flavonoids and phytosterols, herbal cortisone, sesquiterpenes that contain various essential oils, and salicylates which are known as herbal aspirin.
POTENTIAL USES:
This compound is a specific for both acute and chronic inflammation. May be used as adjunct therapy in the treatment of allergies and other mucous membrane inflammation, colitis, fevers, infections, tissue injury or irritation, as well as inflammation in the liver, kidneys, lungs, and skin. This compound may also be helpful in relieving inflammation associated with auto-immune diseases.
SIZE:
OS-1 comes in 1 oz. (30ml). Using 20 drops per day this bottle will last about 1 month.
DOSAGE:
Acute: 15 to 25 drops in a little water, three to five times per day. Take between meals.
Chronic: 15 to 20 drops in a little water, three times per day. Take between meals.
Topical application: Apply undiluted to the inflamed area. In the case of skin that is sensitive, broken or ulcerated it is best to dilute 25 drops per ounce of water. This is also indicated for hemorrhoids.
CONTRAINDICATIONS AND CAUTIONS:
If there is pain and inflammation in the stomach or intestines it is best to dilute drops in at least 8-12 ounces of water. Discontinue if irritation persists. Any inflammatory condition that is rapid in its onset, severe, painful, or persistent should be treated by a qualified healthcare practitioner. Turmeric should not be taken by people who are on blood-thinning medications.
Tachyonized Anti-Inflammatory Remedy is a Tachyonized™ blend of liquid extracts:
18% - Turmeric rhizome (Curcuma longa)
18% + Chamomile flower (Matricaria recutita)
18% - Meadowsweet leaf and flower (Filipendula ulmaria)
18% - Licorice root (Glycyrrhiza glabra)
18% + St.John's Wort flower and bud (Hypericum perforatum)
10% - Arnica flower (Arnica spp.)
+ Fresh - Dried
(Contains grain alcohol (49-54%), distilled water, and vegetable glycerin)
PLEASE NOTE: We use only Certified Organic and Wildcrafted herbs!
LEVEL II - CELL POINTS
Incorporating Ultra-Disks into any treatment quickly balances the natural meridian flow thereby enhancing the entire treatment. Generally, you can use the 15mm Micro or Ultra-Disk for all applications. Locate the Cell Points as described below. Determine which Cell Points are the tenderest. Liberally apply Panther Juice to these points and allow to dry thoroughly. Using Cell-Dotts or surgical tape, adhere the Micro-Disks to the desired points. It is very important to cover the entire spot.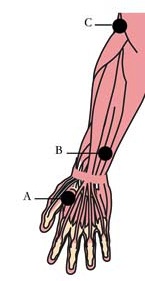 CELL POINTS TO RELIEVE ACUTE AND CHRONIC INFLAMMATIONS
Location: Cell Point A is located on the back of the hand, in the webbing between the thumb and index finger, at the highest spot of the muscle when the thumb and index finger are brought close together.
Benefits: Relieves pain and inflammation in the hand, wrist, elbow, shoulder and neck.
Caution: This point is forbidden for pregnant women because stimulation here can cause premature contractions.
Location: Cell Point B is located two and one-half finger widths above the wrist on the outer forearm, midway between the two bones on the arm.
Benefits: Relieves rheumatism, tendonitis, wrist and shoulder pain.

Location: Cell Point C is located on the upper edge of the elbow crease.
Benefits: Relieves pain in the elbow and shoulder.
Application: Liberally apply Panther Juice to the areas and allow them to dry completely. Adhere Micro- Disks with Cell-Dotts™.
Duration: Start Cell Point application when you begin using OS-1. Continue wearing the Micro-Disks for two or three days after symptoms have cleared. Reapply at the first sign of imbalance.
View All
Close