Description
Tachyonized Liver & Gall Bladder Tonic
ACTIONS:
This compound is cleansing to both the liver and gallbladder. Dandelion is an excellent and safe diuretic and liver tonic rich in potassium. Oregon Grape root acts as a tonic and can remedy chronic skin problems such as psoriasis and eczema, caused by systemic imbalances.
POTENTIAL USES:
Can be used for maintaining general health of the liver and gallbladder, or during illness to cleanse and strengthen the liver and gallbladder. Suggested as a restorative tonic when the liver or gallbladder have been abused. Suggested for liver issues such as hepatitis and jaundice. Helpful for gallbladder issues such as sluggish bile and gallstones and after surgical removal of the gallbladder. Specifically suggested for chronic constipation.
SIZE:
OS-21 comes in 1 oz. (30ml). Using 30 drops per day this bottle will last about 1 month.
DOSAGE:
Tonic: 15 to 20 drops in water, taken after meals.
Acute or chronic: Mix 15 to 20 drops in water and take after meals. Lower the dosage if nausea or pain in the liver results.
CONTRAINDICATIONS AND CAUTIONS:
If symptoms such as pain or irritation of the liver or gallbladder persist, or high fever, prolonged nausea or vomiting are present, promptly see a healthcare practitioner.
Tachyonized Liver & Gall Bladder Tonic is a TACHYONIZED™ blend of liquid extracts:
20% + Dandelion root, leaf and flower (Taraxacum officinale)
20% - Oregon Grape root (Berberis aquifolium)
20% - Milk Thistle seed pericarp (Silybum marianum)
15% - Artichoke leaf and flower bud (Cynara scolymus)
15% - Schisandra berry (Schisandra chinesis)
10% - Fennel seed (Foeniculum vulgare)
+ Fresh - Dried
(Contains grain alcohol (50-68%), distilled water and vegetable glycerin)
PLEASE NOTE: We use only Certified Organic Wildcrafted herbs!
LEVEL II - CELL POINTS
By incorporating Ultra-Disks into any treatment we quickly balance the natural meridian flow thereby enhancing the entire treatment. Generally, you can use the 15mm Micro or Ultra-Disk for all applications. Locate the Cell Points as described below. Determine which Cell Points are the tenderest. Liberally apply Panther Juice to these points and allow to dry thoroughly. Using Cell-Dotts or surgical tape, adhere the Micro-Disks to the desired point. It is very important to cover the entire spot.
CELL POINTS FOR BALANCING THE LIVER AND GALLBLADDER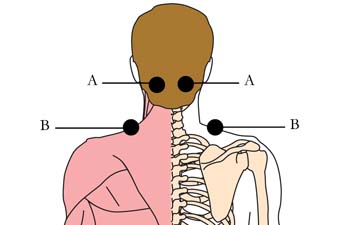 Location: Cell Point A is located just below the base of the skull, in the hollows on both sides of the spine.
Location: Cell Point B is a gallbladder point, located on the highest point of the shoulder muscle, one to two inches from the neck. Note: Pregnant women should press this point lightly.
Benefits: These two points directly affect the gallbladder, as they have a direct link.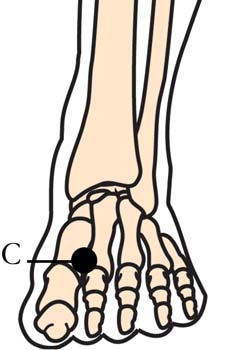 Location: Cell Point C is the Liver Source Point, located on top of the foot in the valley between the big toe and the second toe.
Benefits: This point is used when the liver itself is affected, as it has a direct link.
Application: Liberally apply Panther Juice to the area and allow to dry completely. Adhere Micro-Disks with Cell-Dotts™.
Duration: Start Cell Point application when you begin using OS-21. Continue wearing the Micro-Disks for two to three days after symptoms have cleared. Reapply at the first sign of imbalance.
LEVEL III - TLC POINTS
For Tachyon trained individuals, incorporating TLC Bars on the TLC balancing points below represents the ultimate treatment combination. TLC bars are reserved for Students of Tachyon Holistic Wellness courses or LWL courses.
TLC BALANCING POINTS FOR THE LIVER AND GALLBLADDER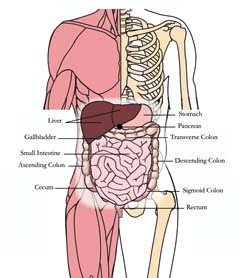 Typical Balance Session: Using your TLC Bars, charge each point for 30 seconds energy in. Reverse the flow for 30 seconds energy out. Finish with 30 seconds energy in.
View All
Close