Frequently bought together:
Description
Tachyonized Gynecological Tonic
ACTIONS:
Helps to relieve menstrual problems. Helps maintain healthy tone and posture of uterus and bladder, and prevents or restores uterine prolapse, malposition, amenorrhea. As a prenatal tonic this compound eases nausea and erratic pains during pregnancy, diminishes the possibility of premature birth or miscarriage, and prepares for an easier delivery. Also helps to tone the uterus to a healthy position. Facilitates a young woman's transition into menstruation and, in some cases, can help to minimize acne. Relieves nervousness and hot flashes of menopausal conditions. May aid in some fertility cases where the cause is metabolic malfunction without severe structural abnormalities.
POTENTIAL USES:
For the general health of the uterus, ovaries and bladder, and to help maintain their balanced function and structure.
SIZE:
OS-13 comes in 1 oz. (30ml). Using 30 drops per day this bottle will last about 1 month.
DOSAGE:
Restorative: 15 to 20 drops in water, two to three times per day. Full results may take 1 to 3 months.
Prenatal: 15 to 20 drops in water, two to three times per day throughout the last trimester. If pregnancy is difficult or there is a history of premature birth or miscarriage, use may be indicated throughout the entire pregnancy.
Acute: 15 to 20 drops in water, three to five times per day.
CONTRAINDICATIONS AND CAUTIONS:
Any gynecological problems associated with severe pain or bleeding, or high persistent fever, or any other serious symptoms, should be seen promptly by a qualified healthcare practitioner.
Tachyonized Gynecological Tonic is a Tachyonized™ blend of liquid extracts:
22.5% - Helonias [False Unicorn] rhizome (Chamaelirium lut.)
22.5% - Partridge Berry herb (Mitchella repens)
22.5% - Cramp Bark (Viburnum opulus)
22.5% - Shatavari root (Asparagus racemosus)
10% - Ginger rhizome (Zingiber officinale)
- Dried
(contains Grain Alcohol (70-75%), distilled water and vegetable glycerin)
PLEASE NOTE: We use only Certified Organic and Wildcrafted herbs!
LEVEL II - CELL POINTS
By incorporating Ultra-Disks into any treatment we quickly balance the natural meridian flow thereby enhancing the entire treatment. Generally, you can use the 15mm Micro or Ultra-Disk for all applications.
Locate the Cell Points as described below. Determine which Cell Points are the tenderest. Liberally apply Panther Juice to these points and allow to dry thoroughly. Using Cell-Dotts or surgical tape, adhere the Micro-Disks to the desired point. It is very important to cover the entire spot.
CELL POINTS FOR GENERAL GYNECOLOGICAL HEALTH AND TO RELIEVE LABOR PAINS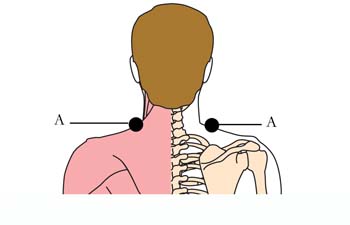 Location: Cell Point A is located on top of the shoulders, on the muscle one or two inches out from the side of the lower neck.
Benefits: Assists childbirth. Relieves pain, nervousness, irritability, fatigue and shoulder tension.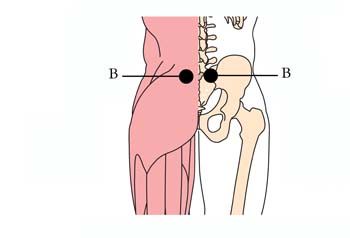 Location: Cell Point B is located on the sacrum.

Benefits: Helps relieve menstrual cramps, lower back pain and labor pain.
Note: Steady, firm pressure on the sacrum, while laying on your back with your hands one on top of the other, under the base of the spine, helps relax the uterus and pelvic area and ease pain during labor.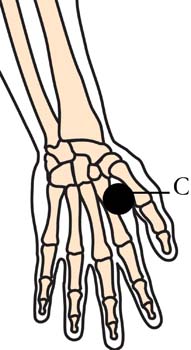 Location: Cell Point C is located on the back of the hand, in the webbing between the thumb and index finger, at the highest spot of the muscle when the thumb and index finger are brought together.
Benefits: Helps initiate contractions and relieve labor pains.
Application: Liberally apply Panther Juice to the area and allow to dry completely. Adhere Micro-Disks with Cell-Dotts™.
Duration: Start Cell Point application when you begin using OS-13. Continue wearing the Micro-Disks for two or three days after symptoms have cleared. Reapply at the first sign of imbalance.
LEVEL III - TLC POINTS
For Tachyon trained individuals, incorporating TLC Bars on the TLC balancing points below represents the ultimate treatment combination. TLC bars are reserved for Students of Tachyon Holistic Wellness courses or LWL courses.
TLC BALANCING POINTS FOR GYNECOLOGICAL HEALTH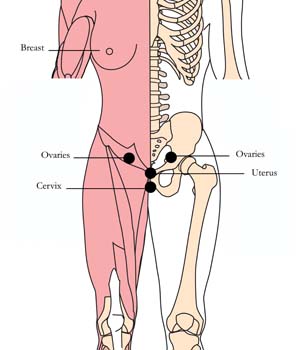 Typical Balance Session: Using your TLC Bars, charge each point for 30 seconds energy in. Reverse the flow for 30 seconds energy out. Finish with 30 seconds energy in.
View All
Close